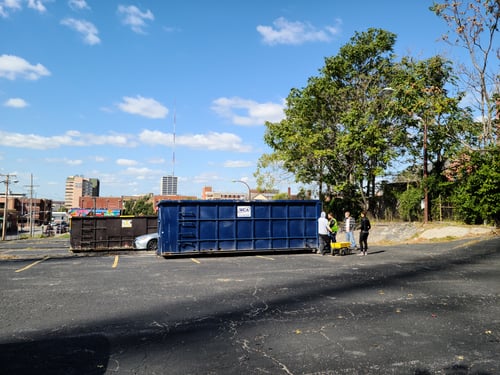 Fall 2023 Dumpster Day is coming soon!
Saturday, October 7, 2023 from 8am to noon
It is time to prepare for our Fall 2023 Dumpster Day. This is a great chance to clear out brush and limbs that may have fallen in any of this summer's storms, or to clear that basement out from all the things that are just occupying space.
Also, we are again partnering with Troost 39 to have a truck there for the lightly used items you might not want anymore. Those can be dropped off at their truck and donated to the store where someone else can buy it.
We do rely on volunteers to help out on the day of the big dump. There are two roles that we need help with:
Greeters - meet the dumpster delivery and make sure they are in the right place; then greet residents, make note of how many trips they make to drop loads; and answer any questions folks have about items they are dropping off.
Junk Haulers - have a pickup truck or other vehicle for hauling items? This is your chance to help your neighbors that might need assistance in getting their junk or brush from their house to the dumpsters on that day.
There are two shifts for each type of volunteer: 8am to 10am, and 10am to noon.
To volunteer, please complete the form below!